BUSINESS IS THRIVING AT YEH! IN NUNS' ISLAND, ACROSS CANADA AND THE GLOBE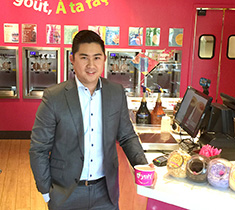 A year and a half since opening at Place du Commerce in Nuns' Island, business is thriving at Yeh! Frozen Yogurt and Café (www.yehyogurt.com).
Yeh! stores boast a self-serve format offering over 60 revolving flavours of frozen yogurt. At Yeh! the customer can choose from a wide variety of healthy and sweet toppings in an attractive and hip "urban cool" funky pink environment. Yeh! is more than just frozen yogurt (froyo). In Nuns' Island, for instance, you can purchase healthy shakes, sweet crepes, and "waffle-iron grilled cheese". Yeh! continues to expand across Canada and around the world. Internationally, six stores have opened in China, and two Lebanon locations are now operating.
Clarence Chui is the owner of the Nuns' Island franchise. "We have become the place to go in Nuns' Island for people of all ages," he says of the 600 square foot location, in a prominent strip mall in the center of town. "There is no other dessert spot with our variety. Customers enjoy the experience and they keep coming back."
Mr. Chui says that the catering side of the business is doing well. Corporate entities are making large orders. Customers are also calling for office and birthday parties, engagement parties, weddings, sweet sixteens and bar mitzvahs.
Mr. Chui said he first got the idea of going into this kind of business when he travelled to California in 2009. "I liked the concept of self-serve frozen yogurt and in the back of my mind thought that one day I would open up a place like this in Montreal. When I heard about Yeh! Yogurt I followed their progress and eventually decided to purchase a franchise. I could not be happier with that decision." Yeh! Yogurt and Café is located at 38 Place du Commerce. Opening hours are 11:30 a.m. to 8:30 p.m. Sunday to Thursday and 11:30 a.m. to 9 p.m., Fridays and Saturdays. For more information call 514-767-5500 or go to www.yehyogurt.com