Yeh! Frozen Yogurt and Café chain to double in size in 2014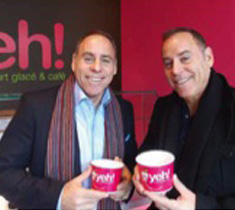 The Montreal-based Yeh! Frozen Yogurt and Café (www.yehyogurt.com) chain continues to grow.
Twin brothers Jon and Marvin Gurman invested in the original Montreal Yeh! location in Montreal in 2008, began a slow expansion and subsequently became the sole owners in December 2012. Yeh! stores boast a self-serve format offering over 50 revolving flavors of frozen yogurt. At Yeh! the customer can choose from a wide variety of healthy and sweet toppings in an attractive and hip "urban cool" setting.
With a combination of both corporate owned and franchised stores, there are presently 13 locations in various parts of Canada, including Quebec, Ontario, New Brunswick and Nova Scotia. That number stands to more than double in 2014. After establishing a presence at the prestigious Bell Centre in Montreal last fall, the Yeh! brand will soon be surfacing at different Walmart locations under the Goyogo banner and at Cinémas Guzzo theatres in Quebec as Yeh! Express.
Yeh! locations
In Greater Montreal there are presently nine locations, with at last eight more set to debut in 2014. This will include locales such as Quartier Dix-30 on the South Shore, trendy Mount Royal Boulevard in the heart of the Plateau and Place Vertu in St. Laurent. Four Goyogos will open at Walmart locations. Last October, Yeh! made its debut at the Bell Centre in Montreal with a sponsorship agreement and the availability of products at some concessions and via food hawkers in the stands.
Elsewhere in Quebec, Yeh! locales will surface in Ste. Foy, Quebec City and Chicoutimi. There is presently one store in Toronto, with a new one set to open on Spadina Avenue; two in New Brunswick (St. John and Fredericton),with a new one set for Shediac as part of an unprecedented partnership with Second Cup; and one in Nova Scotia (Halifax), with four more set for that province, including one Walmart and another in Newfoundland.
Yeh! is more than just yogurt. At most locations you can purchase healthy shakes, both sweet and savory crepes, premium coffee, iced coffee and waffle cones or bowls. Yeh! will continue to evolve its menu with the guidance of its very own personal chef.
"You go, you get!" is our motto, the brothers state. "It is more than just a brand; it is a life concept that leads to realizing your full human potential. We want people to empower themselves to reach their goals and make a difference in the world."

Contact:
Jack Wiltzer
President
Yeh! Yogurt
(514) 384-3872
Carl Jeffers
VP & Director of Franchising
carl@yehyogourt.com
(310) 205-2540
Mark Segall
General Manager Franchising & Real Estate Development
msegall@yehyogurt.com
(514) 887-2077