Yeh! Frozen Yogurt announces exciting international and coast to coast expansion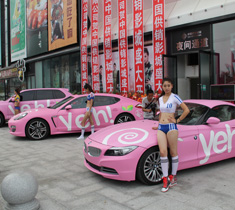 MONTREAL, SEPTEMBER 21, 2015-Yeh! Frozen Yogurt and Café (www.yehyogurt.com) continues to expand.
Internationally, six stores have opened in China, with a total of 300 planned within the next three years. Two Lebanon locations are now operating, with more planned. There will be Yeh! openings in Peru and discussions are ongoing with potential franchisees in the United Arab Emirates and South America.
Yeh! has made its debut in Western Canada, with a store in the West Edmonton Mall. Two more will open in the Alberta capital while the company is scouting locations for Vancouver.
There is a proposed November opening for the first Yeh! in Newfoundland, at the Avalon Mall. That adds to its existing presence in the Maritimes, where stores are situated in Nova Scotia and New Brunswick. In Ontario, a new Yeh! opened over the summer in Wasaga Beach while in the Montreal area the first St. Léonard location will open at Place Viau in October. A partnership with Walmart stores is proceeding, with Yeh! Express outlets in a Halifax locale and Ste. Dorothée in Laval.
With this expansion, Yeh is also in the process of reviewing the performance of some of its stores. As part of this review, some locations will close and new franchise locations will open. This week a new franchisee for the Montreal area was signed.
Yeh! stores boast a self-serve format offering over 60 revolving flavours of frozen yogurt. At Yeh! the customer can choose from a wide variety of healthy and sweet toppings in an attractive and hip "urban cool" funky pink environment.
Twin brothers Jon and Marvin Gurman, who own the company, emphasize that their unique business model recognizes the importance of multicultural expression. "We allow each store owner to add a flavour of their own culture to their menu and store environment," notes Jon.
Adds Marvin: "We are always open to experiment with different menu offerings that appeal to each store's unique market."
More Than Just Yogurt
Yeh! is more than just frozen yogurt (froyo). At most locations you can purchase healthy shakes, both sweet and savory crepes, premium coffee, iced coffee and waffle cones or bowls. Yeh! is continuing to evolve its menu, with "waffle-iron grilled cheese." This unique grilling process caramelizes the butter and creates a mouth-watering grilled cheese experience. Soups are also available at select locations. The Nutella menu has been expanded to include Nutella-Banana or Nutella- Peanut Butter sandwiches! Froyo shakes can be boosted with a muscle builder, an energy boost or a detox.
Official Caterer
PMG (Plaza Management Group), a popular Montreal caterer which manages 17 banquet halls, is the official caterer of Yeh!. The objective is to expand Yeh`s reach with a new approach to private catering services for large or small social or corporate functions.
New Distribution Channels Planned
With a proven track record in the fashion and licensing trade via their company Jcorp (www.jcorp.ca), the brothers are in the midst of developing a new strategic direction for Yeh! by exploring new exciting distribution channels. A new take-out service with Just Eat (JUSTEAT.ca) has been launched. Montreal stores currently participating in this program include: Mont-Royal (920 Mont-Royal Est), Sherbrooke (5037 Sherbrooke Ouest) and Quartier des Spectacles (5 Ste-Catherine Est), with NDG (5554 Monkland) expected to be added soon. A Toronto locale (652 Spadina) is also included. Menu offerings may vary by location to include frozen yogurt, shakes, grilled cheese, crepes and soups.
Partnerships
Because of existing licensing agreements established with JCorp, Yeh! has been able to develop partnerships with Nickelodeon (Spongebob), MGA Entertainment (BRATZ) and Mattel.
Branding Campaigns
Yeh! has engaged in a number of successful branding campaigns and partnerships, working with the likes of VMA Music Award winners, popular American girl group Fifth Harmony, the stars of the hit Canadian teen drama series The Next Step and the racers from Red Bull Crashed Ice while showcasing pink branded luxury cars and taxis. An official mascot, Yehlo! has also been introduced and Yeh! is the official yogurt at Cinemas Guzzo movie theatres in Quebec. A special edition white Ferrari, complete with a spokesmodel is the latest in a fleet of cars representing the brand which already includes a pink Porsche and a pink Lamborghini.
"You go, you get! is our motto," the brothers state. "It is more than just a brand; it is a lifestyle concept that leads to realizing your full human potential. We want people to empower themselves to reach their goals and make a difference in the world. We want to paint the world pink!"
Franchise information is available by contacting Rosemarie Mavrokefalos at
514-384-3872 or by emailing franchise@yehyogurt.com.
Contact:
Rosemarie Mavrokefalos
VP
Yeh! Frozen Yogurt & Café
514-384-3872 #301