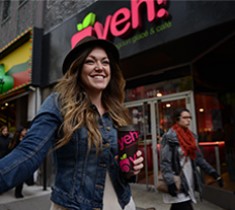 Yeh! Frozen Yogurt and Café chain to expand globally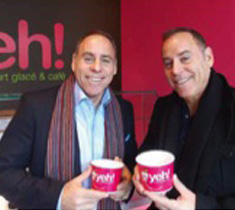 A mere six years after the first Yeh! Frozen Yogurt and Café (www.yehyogurt.com) opened its doors in Montreal, the chain has grown to more than 30 locations in North America, and has gone international, while also introducing an expanded menu.
Twin brothers Jon and Marvin Gurman, the owners of Yeh! Frozen Yogurt and Café, have announced that three stores will soon open in Beirut, Lebanon with 150 locations to open in China over the next three years. They are also in negotiations to debut elsewhere in the Middle East, Europe, South America and Africa. With a proven track record in the fashion and licensing trade via their company Jcorp (www.jcorp.ca), the brothers are staying tuned to the newest trends and as a result they will soon announce a new restaurant concept as an addition to their portfolio.
Yeh! stores boast a self-serve format offering over 60 revolving flavours of frozen yogurt. At Yeh! the customer can choose from a wide variety of healthy and sweet toppings in an attractive and hip "urban cool" funky pink setting –pink being the official colour of Yeh!
Yeh! is more than just yogurt. At most locations you can purchase healthy shakes, both sweet and savory crepes, premium coffee, iced coffee and waffle cones or bowls. Yeh! is continuing to evolve its menu with the guidance of its very own personal chef and by the fall grilled cheese sandwiches and soups will be added to the menu. There is also a new focus on building their catering services.
After establishing a presence at the prestigious Bell Centre in Montreal last fall, the Yeh! brand has now begun surfacing at different Walmart locations and at Cinémas Guzzo theatres in Quebec.
Yeh! has engaged in a number of successful branding campaigns, working with the likes of VMA Music Award winners and popular American girl group Fifth Harmony, the stars of the hit Canadian teen drama series The Next Step while while showcasing pink branded luxury cars and taxis. An official mascot, Yehlo!, has also been introduced.
With a combination of both corporate owned and franchised stores, present-day locations are in various parts of Canada and the US, including Quebec, Ontario, New Brunswick, Nova Scotia, New York and Massachusetts. The corporate office is fielding many calls from individuals and companies wishing to open franchises.
"You go, you get!" is our motto, the brothers state. "It is more than just a brand; it is a lifestyle concept that leads to realizing your full human potential. We want people to empower themselves to reach their goals and make a difference in the world. We want to paint the world pink!"

Contact:
Jack Wiltzer
President
Yeh! Yogurt
514-384-3872